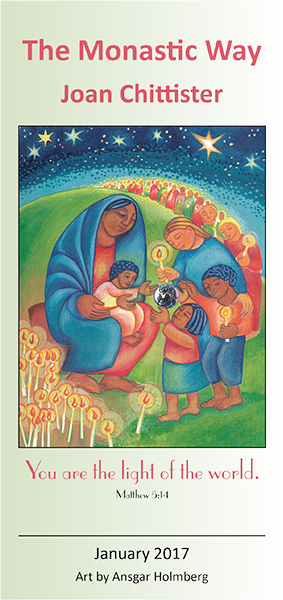 The Monastic Way
The Monastic Way is a monthly PAID subscription containing daily reflections by Sister Joan. It is available as a mailed print subscription or an online only subscription.
"To be able to look at something and imagine how to do it differently is the gift that frees the soul," writes Joan Chittister. The 2017 The Monastic Way collection is about freeing the soul.
The insights of Joan Chittister, the words of Scripture and the bold and multifaceted art of our 2017 artist Ansgar Holmberg give you a new opportunity each month to see, think and construct your world differently—to discover how God dwells among us in surprising forms.
See a complete sample issue here.
Subscribe to the PRINT version here
Subscribe to the ONLINE version here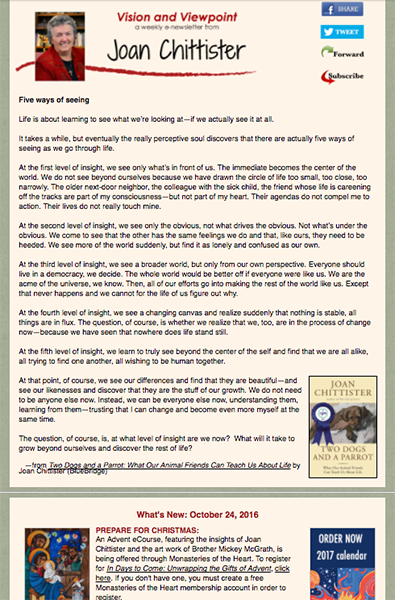 Vision and Viewpoint
Vision and Viewpoint includes Sister Joan's FREE weekly message Ideas in Passing. It also includes news, poems and more. Subscribers to this weekly email newsletter also receive notice of Sister Joan's new book releases, open registration for online courses, special pricing on books and spirituality materials and other helpful information.
Monasteries of the Heart Practices
Monastery of the Heart Practices is a members-only weekly newsletter from Monasteries of the Heart. It invites members to form a monastic heart by participating in the main elements of the living monastic tradition: prayer, lectio, good work, study and community.
Create your free membership account here.
If you are a member and do not receive this weekly, log in at Monasteries of the Heart and go to your account page. Under the "Newsletter Subscriptions" tab you can check the box to be added to the list.