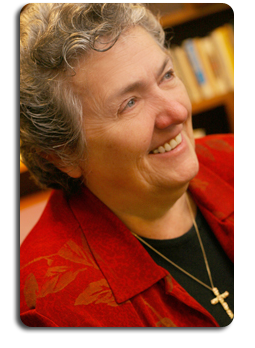 Dear friend and companion on the way,
I'm so lucky you opened this letter. It's a wonder that you do.
Every year I come, begging bowl in hand, trying to get you to be part of a basically unsuccessful ministry—the kind that never ends, that never says, like they did when they announced the end of polio, for instance, "we have eradicated this disease from the face of the earth."
On the contrary.
But I come back every year, nevertheless, full of hope in you. And I'll tell you why: When I was in second grade, Sister—and there's always a nun at the bottom of most of the things in my spiritual life—hung a picture up in our classroom that I have never been able to forget.
It was a picture of Jesus knocking at a closed door. The caption under it was compelling: "Remember that the person who needs your help is Jesus knocking at the door of your heart." But there was no door handle in the picture. In other words, Jesus couldn't just come into that house. Someone had to let him in.
And in this case, that's you.
After ten years of giving to the Fund for Prisoners, you have the right to ask us if this prison system is better now: more effective, more humane. And the answer is not only "not really," but, in some ways, even worse. The insistence by the new Department of Justice that prison sentences be maximized, that the practice of shorter sentences or house arrest for first-time offenders be ended, that the prison system be privatized and left without government overview, creates a Pandora's box of problems.
Private corporations, studies show, keep prisoners as long as possible because they get a per capita compensation from the government for each person they incarcerate.
The prisoners themselves live in such frustrating, dangerously-overcrowded circumstances, no one need wonder why they have riots.
More than that, to cut costs and raise profits, private prison corporations have been found to slash services, reduce food, and ignore the need for rehabilitation programs.
Add a person in prison to your Christmas list. For a donation of only $12 we will send a special Christmas gift, a one-year subscription to The Monastic Way, to a prisoner.
And/or make a general gift:
for a total donation of $100-$249 we'll send you a set of 12 Everywoman Bookmarks featuring quotes from Joan Chittister.
for a total donation of $250-$999 we'll send you Everywoman, the 2018 Joan Chittister Calendar.
for a total donation of $1,000 or more we'll send you Radical Spirit: Twelve Ways to Live a Free and Authentic Life by Joan
Chittister.
Needless to say, spiritual ministry and materials have been ignored completely.
But one thing those in prison do get—if someone provides it—is the right to have volunteer chaplains and donated materials.
Which is where you and I come in. Thanks to your generosity in the past, we have been able to provide $70,000 worth of materials every year. The problem is that our mailbox is full of begging letters from volunteer chaplains and the prisoners themselves.
You know the need because we update you on that every year. Now let me share three letters with you from people who have received what you sent them.
From the striving, the lonely, the grateful: I am a recently sentenced inmate in the state of Connecticut.… For much of my life, I have struggled with addiction, which I believe is in many ways connected to lacking a spiritual foundation. The past three years of my life have been the most difficult for many reasons and oddly, being taken into custody by the powers that be, I believe, may have saved my life. The time spent here, reflecting on my actions and selfishness has brought me to a place of understanding. Even more so, it has allowed me to begin to admit my faults and mistakes to myself. Still, I find myself looking for more…a connection to something greater, something within but also all around me. I have begun my search to find this connection….
After the day of my sentencing, I found myself asking for direction, seeking faith and trusting that the universe would provide me with all that I needed…. I was moved to a different building where I met my new roommate. She had this beautiful calendar hanging on the wall. I read through the quotes and illustrations excitedly and then I came upon the author's information. Talk about a sign! What an absolutely amazing woman, I thought to myself, to think of those within society who are generally forgotten and worse, who feel a deep sense of loneliness, sadness, and fear of the unknown.… As an inmate I would very much like to help other inmates to find a spiritual connection within themselves as well. … Thank you Joan Chittister and all those who support and donate (in any way, by any means) to this Fund for Prisoners. It is so true that "prisoners are the most forgotten people in society and the least served in Christianity." This couldn't be more true and feeling heard and thought of immensely alters the feeling of being forgotten. — ACA
From the struggling—and the grateful: Sister Joan, I wanted to let you know that The Monastic Way is a real blessing to me. I read it every day with my Daily Bread and devotions. And when I'm working in my Anger Management and Domestic Violence groups, I use a lot of quotes and parts out of The Monastic Way. Thank you, so much! May God bless you! — B, California
From someone clinging to a thread—and grateful: I would like to first thank you for all that you do and all that you are in the Lord. I have been incarcerated for 12 years and was introduced to The Monastic Way about 10 years ago. In so many ways the compilation and distribution of these small monthly publications has become a beacon of hope to my heart, mind, and soul. I have shared The Monastic Way with family, friends, and fellow prisoners. For those of us who are in need of a holistic uplift from a spiritually positive source, The Monastic Way fits the bill. I am … grateful to know that the Benedictine Sisters of Erie, PA, have not forgotten the marginalized population within the prisons. … My hope is that you receive this letter and realize the impact that The Monastic Way has made upon my entire term of incarceration. As soon as I receive a job at this new facility I will send a donation to the cause of spreading spiritually positive words of thought and for deep contemplation to the minds of those in this less than ideal environment." — RD, Indiana
So this year I'm asking for something else as much as I am a donation: Yes, I'm asking everyone to increase last year's donation at least a little. But I'm also asking you to engage someone else in this year's request. Show them this letter, be its advocate, ask them to join this attempt to strengthen the souls and encourage the hearts of those long forgotten and deeply cut off from human community.
We all need to tell them that we're here and aware of them and reaching out a spiritual hand to help them in their steep, steep climb to peace and freedom and a new beginning.
I'm asking for crowd-funding to enable us to enlarge our donations of journals, calendars, and copies of The Monastic Way. There are simply so many out there in the prison system who get nothing from anyone. So many who no one thinks about at all. So many who need the opportunity to look beyond the emptiness of the day to the wonder of the eternal. Please give now.
Jesus is standing at the door and knocking…

P.S. You can read more about the Fund for Prisoners and the good work it does here.