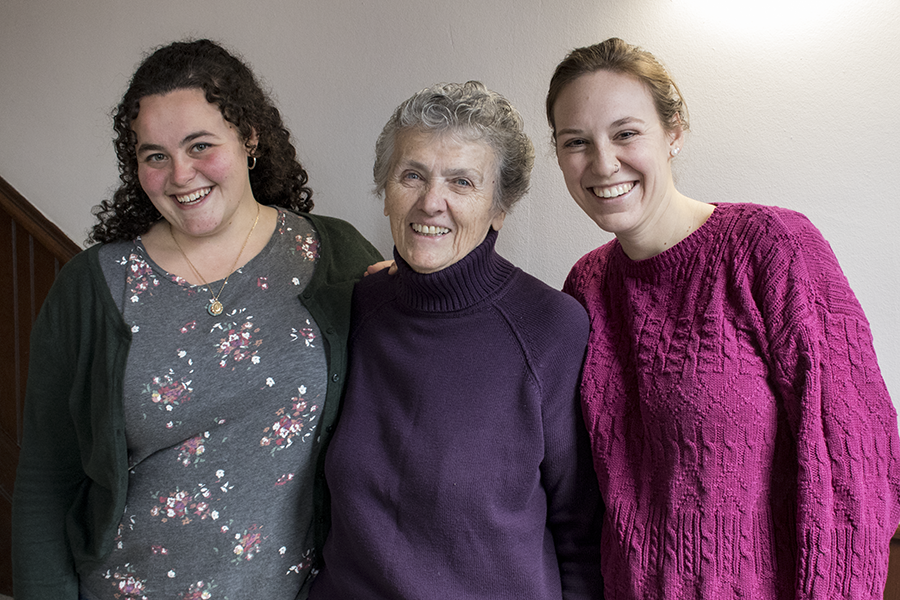 Former interns Jacqueline Small (left) and Breanna Mekuly (right) with Sister Joan
Sister Joan Chittister, a Benedictine nun, prolific author of over 50 books, and noted international lecturer, invites you to spend two weeks with young women who, like her, want to make a difference in the world.
Sister Joan is known for advocating for justice for women and marginalized people, and for their full inclusion in the Church and in society. Her background in social psychology, monastic life, leadership, and feminist thought has informed her work, from her groundbreaking commentary on the Rule of Benedict, to her columns in the National Catholic Reporter and Huffington Post, and her contributions to TedxWomen, Oprah Winfrey's Super Soul Sunday, and NPR's On Being.
Beginning this summer, Sister Joan's research center, Benetvision, is offering an opportunity for young women to immerse themselves in Sister Joan's work, especially regarding monasticism, women in the Catholic Church, and contemporary spirituality. This is a chance to broaden their thinking and deepen their understanding, in the company and community of other young, female-identifying seekers and scholars who are grounded in feminism and Catholicism.
The Joan Chittister Institute for Contemporary Spirituality is offering a two week program this June for a small number of female-identifying Catholic graduate students or recent graduates of programs in a masters of divinity, theology, religion, or related fields.