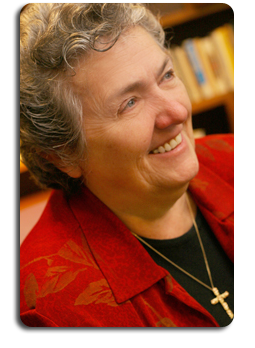 Dear Friend,
I want to talk to you for a few minutes in a more personal way than usual.
First, I need to confess that this letter is about what I've learned through the Fund for Prisoners. I'm not writing it to tell you something that I think you don't know. You may well know a great deal more about these things, in fact, than I do.
Second, I have discovered that there are reasons—and there are reasons—to keep the Fund going but not the ones I first imagined.
The Fund for Prisoners began because our office had publications left over—a few of these leftover titles, a few more of those. It was all about charity. Prison chaplains, I had been told, lacked resources and could use small sets of anything around which to build their conversations or prayer services with those in prison.
As time went by, and more and more chaplains were asking to be included in our small program, I became more conscious, as you did, of the serious needs of the prison population itself: As a group they get very little reading material that might be able to be explored with some depth in short periods of time. Worse, there were few if any publications around which the chaplains themselves might be able to create programs that promised quiet, familiar, caring conversations not for minutes but for months.
Or, to put it another way, I had an image of groups where the educational levels were relatively low and personal experience limited.
No doubt about it, that is certainly one side of the coin. Those in poverty, with limited opportunities for good educations, are incarcerated at a higher rate. But there is another kind of prisoner who also needs support and development from us.
I met one of them where I least expected to find her—she was a niece of one of our sisters. She was physically beautiful, charming, bright, cultured and lovely to be with.
She came from what we euphemistically call "a good home." Her parents were professionals who loved her unconditionally. Her life had been clean and ordered and newly painted and full of promise….
Until the guys with the drugs began to show up at the parties and everything you hoped would happen ended. Simply blew up. Blew up for her, her parents, her so-obvious future. Soon there was addiction, a girl on the run from home, some run-ins with the police, more running and, finally, a dead end. Four years in custody. Four years to think.
Life's long, broad horizon morphed into long grey halls with small windows, enclosed recreation yards, prison schedules and, oh yes, you and The Monastic Way.
I had heard about her over the years but never really knew her myself. Until one night at a family party, there she was on leave from the halfway house. She heard I was coming, they told me, and wanted to meet me, maybe talk to me a little.
That's when I learned even more about the Fund for Prisoners and The Monastic Way and journals and calendars and beauty.
"I don't want to take your time," she said to me quietly. "I just wanted to tell you that without The Monastic Way, I don't know if I would have made it. I don't know if I would be here tonight. I waited for it every month. It was all we had. It was so beautiful. I loved it. I read it every day. I learned so much from it. I began to think again and to pray. It saved me."
She told me, too, that she would read each day's message to her cellmate to help her make it through the day.
I had no idea until that night that The Monastic Way, much as I love doing it, could mean so much to anyone.
If nothing else, that one conversation would bring me back to you, year after year after year. Begging you for money. Begging you to keep that Monastic Way going into prisons where people from every neighborhood in the United States wind up trying to start a real life all over again. A life like the one you and I take for granted. They need you and what you have to give them:
They need beauty to wake up their already battered souls.
They need daily positive, reflective messages to help them make it through endless days of stress and anxiety that can lead to a deep sense of loneliness and isolation.
They need discussions that are long enough to really explore ideas and feelings, hopes and fears.
They need serious conversations that can be continued long enough to bring out the reflective, contemplative, thoughtful part of them again.
They need a taste of the good things of life that don't come in pills or whiskey bottles or powder.
They need to be treated as dignified, decent, intelligent, thinking human beings if we ever want them to be capable of knowing what it is to be fully human again.
In their names, I'm begging you: Make The Monastic Way your gift to those who—without your help—have no other way to find themselves on their "way," on their journey to fullness of life.


Add a person in prison to your Christmas list. For a donation of only $12 we will send a special Christmas gift, a one-year subscription to The Monastic Way, to a prisoner.
And/or make a general gift:
for a total donation of $100-$249 we'll send you the 2019 Joan Chittister Lenten Publication (ships in January 2019).
for a total donation of $250-$999 we'll send you the 2019 Joan Chittister Calendar.
for a total donation of $1,000 or more we'll send you The Art of Life: Monastic Wisdom for Every Day by Joan Chittister.
More than 4,000 prisoners receive The Monastic Way, a monthly subscription publication by Sister Joan that offers daily reflections. Additionally, the Joan Chittister Fund for Prisoners sends out thousands of spirituality journals and calendars each year. In 2017, the Fund distributed more than $84,000 in Monastic Way subscriptions and other materials to prisoners across the country.
 
 
GIVE NOW