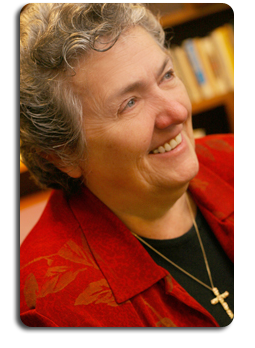 Dear Friend,
Once a year I write you a letter asking you to help support the Joan Chittister Fund for Prisoners. I try to include the latest research on the prison system, the mandate of the Gospel to visit those in prison, and evidence that your donation is making a difference in the lives of thousands of women and men in prison. But this year all I want to do is share a story. The wonderful thing about stories is that they are more accurate about life than any "factual" presentation. And a really good story gives insight into the human adventure and expands our hearts. When I heard this story, I knew it was a treasure. I hope you agree.
The paper hearts pictured here are part of a project initiated by prison volunteers Barbara Redmond and Jane Eggleston who have been ministering to women in the California Institute for Women for over 18 years. The Fund for Prisoners has given many of the women incarcerated at CIW a Joan Chittister Calendar each year, along with the monthly The Monastic Way. 
When she received the 2018 calendars, Barbara describes her reaction as, "Speechless. I loved, loved, loved the calendars–the artwork , the colors, the quotes as always but most especially, I was ecstatic for the theme–'Everywoman'–because it spoke directly to the women prisoners with whom we interact in our ministry." More than ever, Barbara told us, the women treasured these particular calendars. 
So, at the end of 2018, Barbara and Jane asked the women from their Wednesday evening reflection groups if any of them wanted to donate their used calendars for a special project. Barbara and Jane took them home and cut strips from the calendars and folded them into these beautiful hearts. The next time Barbara and Jane met with the groups they invited the women to take several paper hearts and give them away freely. "We encouraged them 'to pass love around,' " said Barbara.
The women got so involved in "giving away their hearts" that they asked to learn how to fold them and then, taught others. Next, they were inspired to write a name, a prayer, or a prayer intention on the paper strips before folding them. Prayerful message hearts! 
Sandra, part of Barbara's group, says that one of the hardest parts of living in prison is that you have nothing to give away or share–the little hearts allow them to extend a gift, a blessing, a symbol of love and hope and caring and comfort to another. 
The women have no privacy in prison. Even when they are given very limited phone time, it is in a public hallway and others can hear the conversation. Now, if someone overhears a woman crying because she has received devastating news, or if it's clear that something good has happened and congratulations are in order, or if the woman is sad after talking to her children whom she can't visit, the word carries, and tiny hearts appear to bring comfort or celebration or understanding. It is "a way to say what words cannot say."
The women share their hearts with volunteers and teachers at the prison as well as with those who volunteer in administration roles. The hearts cross boundaries and become a legitimate way to uphold one another, even if there are wide gaps in between the life experiences of those who give or receive them.
Often the hearts are shared secretly–a woman will find a heart in a pocket or at her place at the cafeteria table or they are left in a public spot for all to share. The women have no idea who reached out to them that day and they experience a sense of wonder and surprise that is so rare behind prison walls. And community is created.
One night at their group meeting, a woman came with the good news that the parole board was going to recommend her release in 120 days–over the next few hours and days, hearts appeared wherever she went, congratulating her, wishing her well, hoping the best for her with no words at all exchanged.
When is a calendar more than a calendar? When it is woven into a loving gesture, a connection, an expression of love and care without words. Amanda, in thanking them for the hearts, said it best, "This reminds me that someone knows I am here and is 'with' me–and I have never felt that before."
If they could, I'm sure the women would send each of you a folded heart to thank you for your kindness over the years in supporting the Joan Chittister Fund for Prisoners. Since that's not possible, remember that you are an integral part of this circle of love. Because of you, over 8,000 women and men in prison receive The Monastic Way each month, a Joan Chittister Calendar, journals, and other spirituality materials. 
One more time, I am asking you to reach into your own generous heart and without words, with a simple gesture, give what you are able to help the circle continue.

P.S. If you'd like to make your own hearts to share, Barbara created a how-to video that you can access here: www.joanchittister.org/make-hearts. Thank you for giving what you can from the wealth of your heart.
Add a person in prison to your Christmas list. For a donation of only $12 we will send a special Christmas gift, a one-year subscription to The Monastic Way, to a prisoner.
GIVE NOW
And/or make a general gift:
for a total donation of $100-$249 we'll send you the 2020 Joan Chittister Lenten Publication (ships in January 2020).
for a total donation of $250-$999 we'll send you the 2020 Joan Chittister Calendar.
for a total donation of $1,000 or more we'll send you Monasteries of the Heart NEW EDITION by Joan Chittister.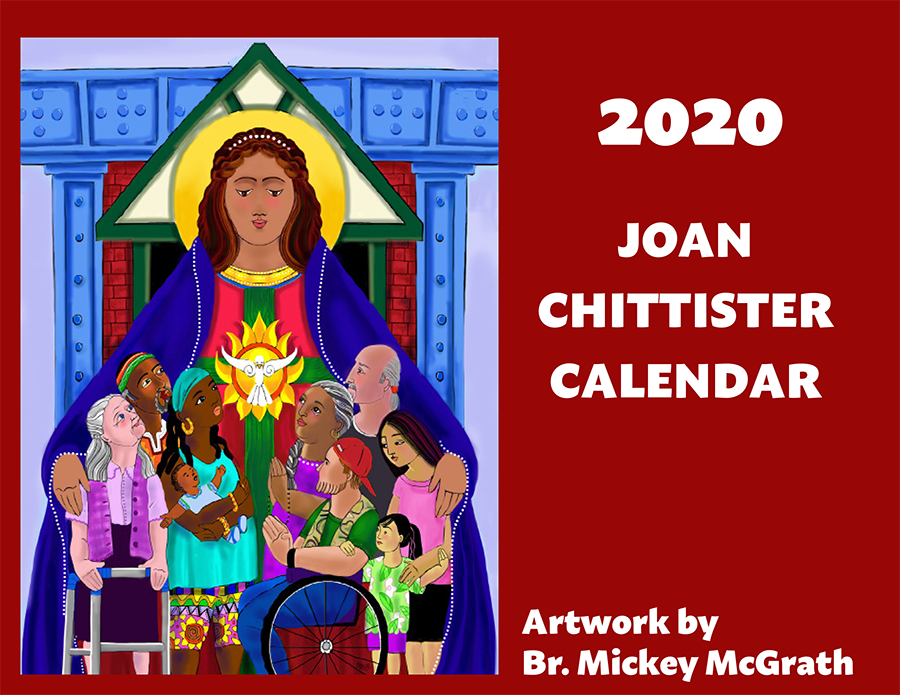 More than 3,000 women and men in prison received The 2019 Joan Chittister Calendar. Additionally, the Joan Chittister Fund for Prisoners sends spirituality materials, journals and subscriptions to The Monastic Way to more than 3,500 people in prison each year.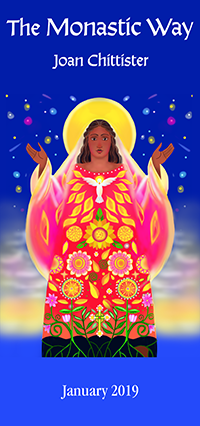 In 2018, the Fund distributed more than $80,000 in Monastic Way subscriptions and other materials to prisoners across the country.
 
GIVE NOW