Two Dogs and a Parrot: What Our Animal Friends Can Teach Us About Life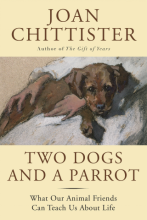 Description
Joan Chittister, one of our leading inspirational writers, invites us to embrace and celebrate the deep bond between humans and animals. 'Two Dogs and a Parrot' offers both heart-warming stories and thought-provoking reflections about sharing life with an animal companion. The relationships we form with animals—with dogs, cats, horses, birds, rabbits, and other pets—are full of joys and rewards. Our companion animals draw us out of ourselves and show us what it truly means to be alive. They teach us to accept life's struggles and to cherish its pleasures and the importance of being able to accept ourselves and respect others. They help us to find purpose and meaning in what we do, and to overcome challenges and setbacks. In our treasured animals we observe varying degrees of excitement and play, of love and fear. And we realize their beautiful uniqueness, their sensitivities and strong sense of purpose.
Whether we have an animal companion, long to have a pet or love someone who does, or cherish animals and nature, 'Two Dogs and a Parrot' will speak to us all. It illuminates the significance of sharing our lives with a pet and celebrates the great gift of animals in our world.
Here's your invitation: Sister Joan has created a special "Two Dogs and a Parrot" and wants you to post a picture of your pet (or you and your pet!) and tell us what your pet has taught you. Click here to see the gallery and share your picture and memory.
Reviews
Here is an antidote to the intrusive political histrionics pervasive in the media this summer! Joan Chittister provides a refreshing respite from the rants with her new book, Two Dogs and a Parrot: What Our Animal Friends Can Teach Us About Life. This collection of light-hearted anecdotes is combined with passionate commentary about fear, love, relationships and the natural the world around us. The author has carefully chosen her words to resonate with a deep wisdom for our topsy-turvy times. She has written parables centered around two dogs and a parrot to teach about the meaning of life, change, spirit and companionship.
A veteran inspirational speaker and activist, Joan Chittister, pulls no punches.
Unless we begin to align ourselves with nature, nature will be endangered and our lives with it. Our own souls with it, in fact. We are here as part of creation, not as consumers of it. We are here to care for this planet, not to exploit it. We are here to find our proper place in it, to grow with it spiritually as well as physically... As top of the food chain, we would be the first to go.
The view from the top-of-the-food chain is not a rosy picture these days. But Chittister's words inspire with stories devoted to the importance of our connection with nature—important for the survival of our own species. In these uplifting vignettes, animal companions are conduits for finding our spiritual lives. She recognizes that they are so much more as our teachers.
As one who has never doubted the soulful nature of animals, I immersed myself in this book while outside the accumulation of pouring rain was breaking all previous records. For two weeks, a most unusual weather pattern inundated the state of Texas with historic flooding. In my case, the author is preaching to the choir—and I am singing praise for this book.
Never mind that one dog is an Irish Setter and the other a Golden Retriever, I don't think you have to be a dog enthusiast, pet owner or necessarily extremely spiritual to enjoy this book. However, if you don't have a companion animal, beware that reading this book may change that.
Joan Chittister is a well-known author of many inspirational books as well as a popular speaker. She is a Benedictine Sister living in Erie Pennsylvania. Sister Joan is a peace, human and women's rights activist who travels globally carrying her message. She has been the guest on Oprah and many other celebrity and news shows. Her accolades and accomplishments are many and are detailed on her website.
STORY CIRCLE BOOK REVIEWS by Martha Meacham
__________________________________________________________________________________________
"As far back as I can remember," says hoodlum Henry Hill at the beginning of "Goodfellas," "I always wanted to be a gangster."
"All my life," writes Benedictine Sr. Joan Chittister, "I wanted a dog."
Henry got what he wished for and wound up a bum, but we love him anyway. Joan got two dogs and a parrot and became a role model whose life work teaches us to become God-like, or spelled backwards, like a dog, and love guys like Henry anyway.
Chittister was an only child who couldn't have a dog in the tiny apartment that she and her single mom lived in. One Good Friday, Joan's mother gave her a blue parakeet. "It was the best Easter gift of my life," she writes.
She couldn't snuggle up to it or take it outside to play like she could a dog, but Joan learned invaluable lessons in caring for it. "Billy became my playmate, my ally, my first guide into the depth and meaning of the animal-human bond," she writes.
A few years later Billy disappeared and "my heart was broken." It was years until she had another pet.
Chittister's new book is about how animal companions have helped her -- and can help us -- to become more loving, appreciate spiritual values, and grow character. It has three sections. Each section tells delightful stories about one of the pets Chittister had as an adult and the values they taught her and her sisters in community, followed by spiritual insights readers will appreciate whether they have pets or not.
It may sound familiar but I guarantee you, not one phrase in this book is a cliché, not one sentence a maxim, not one paragraph a repetition, and not one section less than original. You have not read this book before.
First up is Danny, a big red Irish setter with a bountiful spirit who came as a birthday gift when Chittister was a young sister. Danny had "unbounded, and unboundaried, love of life and of people."
An emotionally defeated woman came to the convent for counseling. Chittister did all she could to help her catch a spark of life. The woman had tears in her voice but not in her eyes. She held back her deepest thoughts and feelings.
One day, Danny padded into the room, as if bidden, and went to her on the sofa. "He put his great mottled head down squarely on her lap, his head tilted back, his eyes melting into hers, one soft, broad paw raised on her knee," Chittister writes.
"Then, without so much as a glance at me, she took his big bony head in her hands and began to talk to him. 'You understand, don't you, Danny? You know what it is to have no one who understands you? You understand ...' and the tears let loose in one great gasp. She bent over him, holding him ever more tightly, and cried and cried."
This one story alone is a life lesson in empathy as good as anything I've read.
Second up is Duffy, a golden retriever who was just the opposite of Danny, an uptight show dog overtrained to perform. The sisters did everything they could to help release the inner dog in Duffy.
It wasn't until they got a big fish tank that Duffy came alive again. "It was like Lazarus rising from the dead." Duffy would look at those colorful fishing moving effortlessly back and forth and slowly remembered what it is to be spontaneous and free.
"Maybe we all come to life only a little bit at a time," writes Chittister. "Which is why it is well to keep our eyes open for it so we'll be ready when it happens."
Last is Lady Hildegard, a colorful parrot who not only becomes a companion but teaches the sisters the value of change and playfulness and unfettered joy. Chittister's story comes full circle. Lady, like Billy the parakeet and all of the animals in Chittister's life, reminds us of us and what we are here for.
"In each of them, it was what they could not do that endeared them to me as much as their special abilities," she writes. "I came to see that none of us needs to do everything well. We just need to do something well because that is why we are here."
Henry Hill had bookies across the street as a clue to what made him tick. Chittister has had two dogs and a parrot. Lucky for us.
—written by Michael Leach, Editor-at-Large for Orbis Books, printed in National Catholic Reporter
____________________________________________________________________________________________
"This is a book about Danny, a big and friendly Irish setter; Duffy, a gentle and quiet golden retriever; and Lady, a fearless and sassy parrot. Chittister is best known for her work on spiritual themes, and in this fine and often touching volume, she discusses the spiritual connection between humans and their animal companions and explores the lessons to be learned—there are many as it turns out—from relationships "that demand more than words to make them real." Each anecdote she shares about her pets is followed by lessons learned along the way. Animals, she insists, have lives of their own, and their lives affect our lives in more ways than we realize, from lessons in love to lessons in empathy. Relationships between the species are built on mutual care, concern, responsibility, and respect, which, she notes, is a pretty good model for human relationships, too. For pet owners as well as those who do not have pets but would like to understand the special bond that exists between human and animal." — BOOKLIST
---
"
In Two Dogs and a Parrot: What Our Animal Friends Can Teach Us About Life
, Joan Chittister (a Benedictine nun and author of
The Gift of Years
) provides readers with spiritual guidance in the form of touching personal stories about her pets. Though the meaning she derives from each story is profound, part of what makes them so sweet is that they are not of the heroic or headline-making variety. Rather, they are the most ordinary occurrences--spotting one of her dogs playing with butterflies in the garden or catching another stealing a plate of sweets off a table. Each story is a sort of parable, containing a gem of wisdom about modern life, from the importance of self-awareness to the perils of overwork.
As co-chair of the Global Peace Initiative of Women and executive director of Benetvision, a resource and research center for contemporary spirituality, Chittister has served for many years as a spiritual leader and speaker. As such, Two Dogs, in addition to honoring animals, sheds lights on the lives of those who've devoted themselves to faith. Recalling a time when her dog played for hours in an automatic door, Chittister uses the story to stress the value of play. The idea that the spiritual world is populated by 'the dour of soul, the dry of heart, and the neurotically well-disciplined,' she explains, is a myth that does a great disservice. On the contrary, Chittinser and her fellow nuns, like the animals they've loved so dearly, seek joy, fun and warmth in everyday life..." —Shelf Awareness