Joan Chittister: Her Journey from Certainty to Faith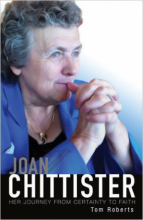 Description
This intimate biography of Joan Chittister is beautifully written by prize-winning journalist and National Catholic Reporter editor-at-large Tom Roberts.
"I love the stellar witness of this woman! A more faithful, authentic, sustained voice calling for full inclusion of women in the Catholic Church cannot be found. And what a fascinating bud-to-flower woman's life story lies within these pages. I read it deep into the night, long after good sense told me to go to sleep. That's Chittister for you—waking us up and keeping us awake to the radical call of the Gospel." — Sister Helen Prejean, CSJ, author of Dead Man Walking
REVIEWS
"We don't change as we get older—we just get to be more of what we've always been." So wrote Sister Joan Chittister, OSB, in The Gift of Years: Growing Old Gracefully. After reading Tom Roberts's new biography of Chittister, I wonder whether she would add that growing older also means coming to terms with who you have always been—and why. A full-length biography was on the minds of neither the author nor the subject when Roberts and Chittister met in Erie, Pennsylvania, in July 2011. Roberts's purpose was to "update the file" on Chittister for the National Catholic Reporter (code for preparing her obituary). He began by observing that while he had known Chittister as a friend and NCR columnist for many years, he did not know much about her personal life. "Tell me who you are and where you come from," he prompted. "Let's begin at the beginning."
And so Chittister did. Over the next four days, she shared with Roberts the story of an early life shaped by domestic violence and vulnerability. Chittister's father, Daniel Daugherty, died when she was a toddler. Joan's widowed mother, Loretta, soon married Harold "Dutch" Chittister, an alcoholic with a fierce temper who subjected her to physical abuse and consigned Joan to a childhood full of fear. It was only in 2011, at age seventy-five, that Joan was ready to tell this part of her life story. "It's time," she told Roberts.
Joan's memories of her adoptive father show how complicated love and family life can be. Despite the trauma he inflicted, she was grateful to Dutch for providing materially for her and her mother, and remained so attached to him that she decided, as an adult, to keep his surname. And while Dutch, a non-Catholic, had refused to pay for her Catholic schooling and had initially been opposed to her entering the convent, he came to love the Benedictines. When Chittister contemplated leaving the community in the tumultuous early days of post–Vatican II renewal, it was Dutch who spoke to her about the bonds of love and loyalty.
Joan's relationship with her mother was far more loving but equally complex. She remembers Loretta as a wisdom figure who did the best she could to protect her daughter and to remove obstacles in her way. When Joan first applied to enter the Benedictines, the prioress refused her permission; as an only child, she explained, Joan would need to care for her mother in her old age. It was only through Loretta's insistence that the prioress relented. That prioress, it turned out, had proved oddly prescient. Loretta did indeed need to rely on her only child in her old age. Diagnosed with advanced Alzheimer's disease, she moved into the Benedictine motherhouse where she was cared for by the entire community until her death four years later, a development made possible only by the Benedictines' shift from an almost exclusive focus on education to a broader corporate commitment to social justice.
Through her leadership in the community and beyond, Chittister spearheaded that transition and the others that reshaped women's religious life after the council. In 1971, she was elected president of the Federation of St. Scholastica, one of four Benedictine Federations in the United States. She would later be elected president of the Leadership Conference of Women Religious, prioress of the Erie Benedictines, and president of the Conference of Benedictine Prioresses. All the while she maintained a grueling speaking schedule and devoted significant time to her writing, emerging as a national and international authority on religious life and a prophetic and fearless advocate for women, a commitment she ascribes to her mother.
Loretta's influence endures. Though her mother had died several years before, Joan sensed her presence at a pivotal moment in 2001, when she was informed that the Vatican's Congregation for Institutes of Consecrated Life and Societies of Apostolic Life had demanded that the Benedictines forbid her from speaking at a conference on women's ordination in Dublin, Ireland. She heard her mother tell her, "You go ahead and you'll be all right. Do not be afraid." She confesses to Roberts that, to this day, she struggles under the weight of her mother's high expectations. This glimpse of vulnerability is difficult to square with the powerful and confident speaker many of us know Chittister to be, but it is one of the virtues of Roberts's biography. The personal touches he inserts in the book—memories of her madcap spins on a motor boat around Lake Erie, for example, or the fact that she personally responds to each and every one of the thousands of emails she receives—give the reader an intimate portrait of a much-admired public figure.
The biography is also a love story about the Catholic sisters in Joan's life. Joan's earliest memories are of the Sisters of Mercy comforting her at her father's funeral. Her fourth-grade teacher, a Sister of St. Joseph, secretly laundered her uniform when she spilled ink on it, avoiding a confrontation at home. More important, her teachers noticed and cultivated her manifest intellectual gifts. Sisters at Erie's Benedictine Academy provided a work-study job to cover her high-school tuition, and, after one of them noticed she was skipping the noon meal in the cafeteria, arranged for her to have both lunch and dinner free of charge. Soon after she entered the Benedictines, the community provided support as she battled polio. The community eventually also sponsored her postgraduate education, a path certainly followed by many U.S. sisters but highly improbable for a member of a community that did not sponsor a college. A chance encounter at the University of Notre Dame led Chittister to Penn State in 1969, where she earned a PhD in speech communication in a record two-and-a-half years. The timing, it might be said, was perfect, in that she finished graduate school at the moment her gifts as a leader and speaker were most needed.
Apart from the early chapters, the biography does not provide much new substantive information about Chittister. Still, this account of Chittister's life is compelling for the history it provides of women's religious life over the past half century. It is, ultimately, a story not of one woman but of a generation of Catholic sisters that came of age in the heady decades that followed the Second Vatican Council, when transformations in church and society combined to restructure women's religious life.
In the final chapters, Roberts weighs in on the ongoing debate over the wisdom and consequences of this restructuring. He cites the arguments of Ann Carey and others who would blame Chittister and her ilk for the decentralization of religious life and the decline in the numbers of U.S. Catholic sisters. Roberts clearly disagrees with this interpretation, and admires Chittister for performing what she calls her "ministry of irritation" within the church. Roberts quotes at length from a recent sociological study, New Generations of Catholic Sisters, which shows how generational analysis can confound ideologically based judgments Carey and others make about women's religious life. Roberts's book, perhaps unwittingly, also testifies to the benefit of using a generational lens. At one memorable moment during Chittister's tenure as prioress, the community debated whether or not to erect a flagpole at the motherhouse. Chittister's contemporaries, committed to peace, objected; her elders, who remembered brothers serving during World War II, felt differently about the American flag.
When I finished the book I thought far less about the generation that preceded Chittister than I did about those that follow her, in particular the millennials. Members of this generation are removed from those in Chittister's cohort on at least two counts. They are not only more disconnected from the church but are also often suspicious of feminism, having learned about it more through its detractors than its advocates. In seeking simple ways to demystify feminism, I often rely on pithy quotes from Chittister. One of my favorites appeared in her regular NCR column, "From Where I Stand": "Feminism is not about turning women into men or men puinto women. Feminism is about enabling both men and women to develop as full human beings." These are words more young Catholic women need to hear. Those who are not already fans of Chittister might do well to first meet her without Roberts's mediation, by reading her own beautiful and powerful prose.
—written by Kathleen Sprows Cummings, published in Commonweal Magazine
________________________________________________________________________________________
How many Joan Chittisters are there?
After reading Tom Roberts' exhaustive biography, "Joan Chittister: Her Journey from Certainty to Faith," and after taking 22 pages of notes on it, I can attest to there being many, many women who answer to the name Joan Chittister.
First, there's the Erie Benedictine sister whom we think we know -- the woman who lectures and writes books, the woman with the piercing blue eyes, the woman who at times seems a force unto herself. But Roberts describes her better than I:
"During ordinary discourse she is always ready to engage, her blue eyes at times almost ablaze, a smile always at the ready. Her energy can seem almost inexhaustible. Her story lines are usually crisp and unambiguous, delivered in a strong voice with a laugh to match."
But then there's the Joan Chittister we don't know at all -- the product of a loving mother but an alcoholic and abusive stepfather (her real father died of tuberculosis less than three years after Chittister was born).
"On weekends, especially, [her stepfather] would go out drinking and come home raging drunk. Whatever demons were at work in him would take out their vengeance on Joan's mother," Roberts writes.
It got so bad that Loretta, Chittister's mom, would hide money and the addresses of her sister and the local convent under the carpet.
"If anything happened to her, no matter what time of day or night, I was to take that money, get those addresses, and get out of that house," Chittister told Roberts.
Chittister also stood bravely between her mom and stepfather during his rages. There's no record here of her being struck or hurt, but one time she was nearly hurled by her stepfather through a second-floor window.
Until "From Certainty to Faith" revealed it, few people knew of Chittister's violent upbringing. Writes Roberts, "It was a reality the details of which she had hidden, even from her closest friends and associates in her community, for more than 60 years."
Then there's the Joan Chittister who, at 16, was diagnosed with polio and would ultimately spend time in an iron lung to help her breathe.
"Her left leg and right arm had been affected and would be impaired to a certain degree for the rest of her life. She still has difficulty with stairs, can't walk long distances, and can have trouble breathing," Roberts writes.
Then, of course, there's the world traveler Chittister, the book writer Chittister, the honorary degree receiver Chittister, and the embattled, stand-up-for-her-rights Chittister. "In the two decades between 1977 and 1998, Chittister spoke in 15 countries and wrote 18 books and five pamphlets [Chittister's total of books written is now more than 50]. She received honorary degrees during that time from eight colleges and universities," Roberts writes.
A recent trip to Dublin, Ireland, in 2001, turned controversial when Chittister spoke on "Discipleship for a Priestly People in a Priestless Period" before a conference sponsored by Women's Ordination Worldwide. Earlier, Chittister had been forbidden to attend by the Vatican agency that administers religious orders.
"There's something I have to tell you," Chittister told Sister Christine Vladimiroff, her prioress at the time. "I'm going to Dublin. ... These men are not going to do this. They have no right."
Then there's the celebrated Chittister of many achievements. She graduated from Notre Dame in communication arts and got her Ph.D. from Pennsylvania State University in 1971. That same year, she was elected president of the Federation of St. Scholastica.
Other appointments and elected offices include president of the Conference of American Benedictine Prioresses (1974-1990), president of the Leadership Conference of Women Religious (1976-1990), U.S. councilor-delegate to the Rome-based International Union of Superiors General (1982-1986), elected fellow to the University of Cambridge as writer-in-residence, and the 1996 Von Hugel lecturer at Cambridge.
Not bad for an Erie ... well, Chittister's not really an Erie girl. She was born in DuBois, northeast of Punxsutawney, on April 26, 1936.
Then there's the self-doubting Joan Chittister, which is the hard part to believe. Coming all this way and hearing about everything she did and lived through -- self-doubting? But it's true.
"I'm never quite right enough. I'm never quite prepared enough. I'm never quite finished enough," she tells Roberts. Part of the problem comes surprisingly from her mother, who wrote "Joan can do better" in her report card.
"'Joan can do better.' ... I spent my whole life standing on tiptoe trying to finally get to the point where somebody would say, 'You couldn't do any better than that, Joan.' ... I'm still working at it."
During times of strife, when it seemed like her community was breaking apart, Chittister even doubted her calling and considered leaving the religious life.
There's much more to tell, but I'm out of space. Roberts, who is a reporter for the National Catholic Reporter, has done a magnificent job, but in truth, "From Certainty to Faith" is a combination of thorough reporting by Roberts and the input of a fascinating subject -- love her or not, admire her or not -- who has nakedly opened up to her biographer.
There's just one more Chittister to consider.
She's a person who, according to Roberts, "loves to laugh, loves good food." She also loves to fish and, on one noteworthy day, was given three tickets by the Coast Guard for a faulty flare and for speeding in "no wake" zones.
If you couldn't tell which Joan Chittister this is, it's the human one.
—written by Dour Rieder, former editor of the book page and published in Erie Times-News
___________________________________________________________________________________________
A review by Sandra M. Schneiders, IHM, Jesuit School of Theology, Santa Clara University
This in-depth biography of Sister Joan Chittister, a Catholic nun, member of the Benedictine Sisters of Erie, PA, and a very active public participant in the ecclesial and cultural life of the contemporary church is written by Tom Roberts, well-known to many progressive Catholics as a long-time editor and now editor-at-large of the prize-winning independent weekly newspaper, the National Catholic Reporter. Roberts is also the author of the perceptive analysis of post-conciliar Catholicism, The Emerging Catholic Church: A Community's Search for Itself (2011). His interest and expertise in this subject of contemporary ecclesial renewal influences his approach to Joan Chittister's life and work and emerges explicitly in one of the most important sections of the book, chapter 10, "Into Uncharted Waters." In this thoughtful concluding chapter, he places Chittister's life in the context of the renewal of the church and especially of U.S. women's religious life in the post-conciliar period, showing her to be not only one of its major catalysts but also a striking exemplar of both its challenges and its promise. It is this larger focus which will make the book of interest not only to Catholic insiders, especially women religious and those who have profited from Chittister's broad contributions to the spiritual, ecclesial, and justice agenda of the church, but also to those interested in developments in the wider sphere of religion in the second half of the twentieth century.
The Chittister biography began in a routine assignment. Roberts was asked to "refresh the file" of the NCR on the well-known activist nun, that is, be sure the paper had an up-to-date resource in case an obituary for Chittister were needed on short notice. Chittister, born in 1936, turns 80 this year but this book certainly suggests that her life story is far from over. She remains in high demand as a writer and speaker and deeply involved in the ongoing renewal of religious life, the Catholic Church, and the world. The initial contact of Roberts with Chittister, with its very limited objective, led to a lengthy process of wide-ranging and even intimate interviews and extensive research that became the material for this fascinating biography of one of the most influential women in the contemporary Catholic Church and indeed among social activists of our time within and outside the church.
The work is somewhat unusual in the "life-story" genre. The subject, Joan Chittister, is not only alive but highly active and deeply involved in the contemporary Catholic scene. What she will do and become in the years ahead is in no sense pre-determined or predictable. So, this is neither a completed biography nor exactly a "memoir" although it involves a great deal of deep reflection on her part, shaped by Roberts's probing interviewing and interpretation, about the significance of much that has transpired in her life and in the church and world, especially in the fifty years since Vatican II.
Nor is the book a "vicarious autobiography" because Chittister did not read the manuscript prior to its publication. Consequently, this is the story of Chittister, a woman religious, interpreted by Roberts, a lay man, which raises some interesting questions about interpretations of some aspects of religious life, at least for this reviewer.
And, although there is no fudging of the more unsavory aspects of the institutional church's treatment of women in general and intelligent, influential women like Joan Chittister in particular, there is nothing vindictive in Chittister's account, even of the patent injustice and psychological violence to which she and her community were subjected by the Vatican's curial office charged with the oversight of religious congregations which treats Chittister as not simply an irritant but as a threat to its absolute authority. The book is not a "tell all" or "get even" manifesto in any sense although it renders a real service in the agenda of church reform by exposing in detail the tactics of secrecy, intimidation, and coercion that are still operative in the ecclesiastical institution despite the reforms of Vatican II and now the pastoral leadership of Pope Francis.
Finally, the book is not a "hagiography." Roberts does not suppress the criticism of his subject within and outside her own community, nor does Chittister herself deny or refute it. Part of the value of the story is its frank presentation of the conundrums, the judgment calls, the insoluble disagreements as well as the community solidarity that makes religious life work over the long haul. The life itself emerges as a real, difficult, but eminently worthwhile adventure in Gospel living.
But, whatever its precise genre, readers of this biography who have had little personal contact with nuns or first-hand knowledge of religious life will be treated to a fascinating introduction to this somewhat private, even mysterious, lifeform through the personal story of one of its most public and personally engaging figures.
Readers of all stripes can find encouragement in this story of someone whose commitment to building a better world for the whole of humanity has enabled her to not only survive but grow through her confrontation with real life issues such as a difficult childhood in a dysfunctional family, a life-threatening childhood illness and its lingering effects, real conflicts with those closest to her in life and ministry, and betrayal by some of the highest authorities in the church she has served so well. It is easy to see admired figures whose public success is as striking as is Chittister's as leading charmed lives devoid of the devastating counterwinds most of us face. But this is a story of real challenges faced and surmounted in the name of truth and justice, real sufferings borne from a motive of love of God and one's fellow human beings, and real joy in shared life and mission within a contemporary religious community in a renewing church.
Published in American Catholic Studies Vol. 127, No. 2 (2016)
__________________________________________________________________________________
"Sister Joan Chittister is one of the most powerful women I know. Her power does not come from wealth, celebrity, or office. It is a power that comes from her presence, from values, from beliefs, from within. In this biography, Tom Roberts reveals the long journey she took to find that power. It's a must-read for anyone expanding their faith." —Maria Shriver, journalist, author and Former First Lady of California
"Simply put, Sister Joan Chittister is one of the great spiritual voices, and great prophets, of our time." —James Martin, SJ, author, Jesus: A Pilgrimage
"Sister Joan Chittister is one of the most consequential and courageous Catholic women of her generation, a prophetic and inspiring voice. Tom Roberts is one of our moment's wisest, best informed and eloquent Catholic writers and thinkers. That they have come together here is an enormous blessing and a gift to readers, Catholic and non-Catholic alike. This is an essential book for understanding Catholicism in our time." —E.J. Dionne Jr., author, Souled Out
"With keen journalistic acumen, Tom Roberts chronicles the life of one of the most beloved spiritual leaders of our times. Along the way, we learn not only about Sr. Joan Chittister's graced journey but also about the evolution of the Erie Benedictines, post-Vatican II religious life, and the struggle for women's equality in the Catholic Church. Roberts has the biographer's gift of invisibly shaping his material, allowing Chittister's piercing, prophetic life to illuminate – and inspire. A wonderful book!" —Christine Schenk, CSJ, Founding Director FutureChurch
"Tom Roberts' highly readable new biography will certainly surprise you in its frank depiction of events Joan Chittister had kept to herself until now. In telling her story, he's also tracing the complicated history of the American church over the last century in the most human way possible, through the life one extraordinary woman has spent both serving and shaping it." —Melinda Henneberger, Senior Writer, Bloomberg Politics
"This is the story of a remarkable visionary – theologian, religious leader, feminist, voice for justice and renewal, peacemaker—brilliantly told by Tom Roberts, who captures both her struggles and her triumphs. Joan Chittister is a woman of her times –a woman who has learned the importance of becoming and evolving, guided always by the lessons of Jesus and his ministry to those on the margins of society. Through her own experience she shows us what is needed for spiritual growth and a purposeful life." — Melanne Verveer, Former US Ambassador for Global Women's Issues
"Joan Chittister brings to life all that matters most in faith. Out of the stormy years of her prophetic ministry, Tom Roberts seizes the lightning of that witness, and he lets it shine—a source of warmth and illumination. This book lays bare a special person, and a challenging age. A fine writer, a man of faith himself, Roberts is a biographer fully worthy of his brilliant subject."—James Carroll, author, Christ Actually
"Tom Roberts captures the remarkable Sr. Joan Chittister in an extraordinary manner. Joan's life of determination, courage, her humor, her extraordinary talents are revealed from her early years, right to the present. Among Joan's qualities, the gift of endurance is pivotal—the genius of prophets from ancient times until the present. I endorse this publication with great pride and support; it captures the woman Joan, as she follows her 'Impossible Dream!'" —Theresa Kane, RSM, former president, Leadership Conference of Women Religious
"Untold numbers of people know Joan Chittister as a public person. Here is a book that enables everyone to get to know her as an extraordinarily, deeply human person. In opening up her personal life to Tom Roberts, Joan shares her vulnerabilities, her doubts and struggles as she follows a prophetic call to proclaim a message of justice with a special emphasis on full equality for women in the Church and society." —Bishop Thomas Gumbleton, Detroit, MI
"Tom Roberts's engaging book gives us the context for Joan Chittister's prophetic voice in the Church. It also provides invaluable lessons about courageous leadership through disruptive change, operating always in the spirit of community. Lessons well-worth emulating in every walk of life." —Cokie Roberts, journalist and author