Joan Chittister: Her Journey from Certainty to Faith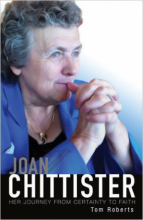 Description
This intimate biography of Joan Chittister is beautifully written by prize-winning journalist and National Catholic Reporter editor-at-large Tom Roberts.
"I love the stellar witness of this woman! A more faithful, authentic, sustained voice calling for full inclusion of women in the Catholic Church cannot be found. And what a fascinating bud-to-flower woman's life story lies within these pages. I read it deep into the night, long after good sense told me to go to sleep. That's Chittister for you—waking us up and keeping us awake to the radical call of the Gospel." — Sister Helen Prejean, CSJ, author of Dead Man Walking
A review by Sandra M. Schneiders, IHM, Jesuit School of Theology, Santa Clara University
This in-depth biography of Sister Joan Chittister, a Catholic nun, member of the Benedictine Sisters of Erie, PA, and a very active public participant in the ecclesial and cultural life of the contemporary church is written by Tom Roberts, well-known to many progressive Catholics as a long-time editor and now editor-at-large of the prize-winning independent weekly newspaper, the National Catholic Reporter. Roberts is also the author of the perceptive analysis of post-conciliar Catholicism, The Emerging Catholic Church: A Community's Search for Itself (2011). His interest and expertise in this subject of contemporary ecclesial renewal influences his approach to Joan Chittister's life and work and emerges explicitly in one of the most important sections of the book, chapter 10, "Into Uncharted Waters." In this thoughtful concluding chapter, he places Chittister's life in the context of the renewal of the church and especially of U.S. women's religious life in the post-conciliar period, showing her to be not only one of its major catalysts but also a striking exemplar of both its challenges and its promise. It is this larger focus which will make the book of interest not only to Catholic insiders, especially women religious and those who have profited from Chittister's broad contributions to the spiritual, ecclesial, and justice agenda of the church, but also to those interested in developments in the wider sphere of religion in the second half of the twentieth century.
The Chittister biography began in a routine assignment. Roberts was asked to "refresh the file" of the NCR on the well-known activist nun, that is, be sure the paper had an up-to-date resource in case an obituary for Chittister were needed on short notice. Chittister, born in 1936, turns 80 this year but this book certainly suggests that her life story is far from over. She remains in high demand as a writer and speaker and deeply involved in the ongoing renewal of religious life, the Catholic Church, and the world. The initial contact of Roberts with Chittister, with its very limited objective, led to a lengthy process of wide-ranging and even intimate interviews and extensive research that became the material for this fascinating biography of one of the most influential women in the contemporary Catholic Church and indeed among social activists of our time within and outside the church.
The work is somewhat unusual in the "life-story" genre. The subject, Joan Chittister, is not only alive but highly active and deeply involved in the contemporary Catholic scene. What she will do and become in the years ahead is in no sense pre-determined or predictable. So, this is neither a completed biography nor exactly a "memoir" although it involves a great deal of deep reflection on her part, shaped by Roberts's probing interviewing and interpretation, about the significance of much that has transpired in her life and in the church and world, especially in the fifty years since Vatican II.
Nor is the book a "vicarious autobiography" because Chittister did not read the manuscript prior to its publication. Consequently, this is the story of Chittister, a woman religious, interpreted by Roberts, a lay man, which raises some interesting questions about interpretations of some aspects of religious life, at least for this reviewer.
And, although there is no fudging of the more unsavory aspects of the institutional church's treatment of women in general and intelligent, influential women like Joan Chittister in particular, there is nothing vindictive in Chittister's account, even of the patent injustice and psychological violence to which she and her community were subjected by the Vatican's curial office charged with the oversight of religious congregations which treats Chittister as not simply an irritant but as a threat to its absolute authority. The book is not a "tell all" or "get even" manifesto in any sense although it renders a real service in the agenda of church reform by exposing in detail the tactics of secrecy, intimidation, and coercion that are still operative in the ecclesiastical institution despite the reforms of Vatican II and now the pastoral leadership of Pope Francis.
Finally, the book is not a "hagiography." Roberts does not suppress the criticism of his subject within and outside her own community, nor does Chittister herself deny or refute it. Part of the value of the story is its frank presentation of the conundrums, the judgment calls, the insoluble disagreements as well as the community solidarity that makes religious life work over the long haul. The life itself emerges as a real, difficult, but eminently worthwhile adventure in Gospel living.
But, whatever its precise genre, readers of this biography who have had little personal contact with nuns or first-hand knowledge of religious life will be treated to a fascinating introduction to this somewhat private, even mysterious, lifeform through the personal story of one of its most public and personally engaging figures.
Readers of all stripes can find encouragement in this story of someone whose commitment to building a better world for the whole of humanity has enabled her to not only survive but grow through her confrontation with real life issues such as a difficult childhood in a dysfunctional family, a life-threatening childhood illness and its lingering effects, real conflicts with those closest to her in life and ministry, and betrayal by some of the highest authorities in the church she has served so well. It is easy to see admired figures whose public success is as striking as is Chittister's as leading charmed lives devoid of the devastating counterwinds most of us face. But this is a story of real challenges faced and surmounted in the name of truth and justice, real sufferings borne from a motive of love of God and one's fellow human beings, and real joy in shared life and mission within a contemporary religious community in a renewing church.
Published in American Catholic Studies Vol. 127, No. 2 (2016)
"Sister Joan Chittister is one of the most powerful women I know. Her power does not come from wealth, celebrity, or office. It is a power that comes from her presence, from values, from beliefs, from within. In this biography, Tom Roberts reveals the long journey she took to find that power. It's a must-read for anyone expanding their faith." —Maria Shriver, journalist, author and Former First Lady of California
"Simply put, Sister Joan Chittister is one of the great spiritual voices, and great prophets, of our time." —James Martin, SJ, author, Jesus: A Pilgrimage
"Sister Joan Chittister is one of the most consequential and courageous Catholic women of her generation, a prophetic and inspiring voice. Tom Roberts is one of our moment's wisest, best informed and eloquent Catholic writers and thinkers. That they have come together here is an enormous blessing and a gift to readers, Catholic and non-Catholic alike. This is an essential book for understanding Catholicism in our time." —E.J. Dionne Jr., author, Souled Out
"With keen journalistic acumen, Tom Roberts chronicles the life of one of the most beloved spiritual leaders of our times. Along the way, we learn not only about Sr. Joan Chittister's graced journey but also about the evolution of the Erie Benedictines, post-Vatican II religious life, and the struggle for women's equality in the Catholic Church. Roberts has the biographer's gift of invisibly shaping his material, allowing Chittister's piercing, prophetic life to illuminate – and inspire. A wonderful book!" —Christine Schenk, CSJ, Founding Director FutureChurch
"Tom Roberts' highly readable new biography will certainly surprise you in its frank depiction of events Joan Chittister had kept to herself until now. In telling her story, he's also tracing the complicated history of the American church over the last century in the most human way possible, through the life one extraordinary woman has spent both serving and shaping it." —Melinda Henneberger, Senior Writer, Bloomberg Politics
"This is the story of a remarkable visionary – theologian, religious leader, feminist, voice for justice and renewal, peacemaker—brilliantly told by Tom Roberts, who captures both her struggles and her triumphs. Joan Chittister is a woman of her times –a woman who has learned the importance of becoming and evolving, guided always by the lessons of Jesus and his ministry to those on the margins of society. Through her own experience she shows us what is needed for spiritual growth and a purposeful life." — Melanne Verveer, Former US Ambassador for Global Women's Issues
"Joan Chittister brings to life all that matters most in faith. Out of the stormy years of her prophetic ministry, Tom Roberts seizes the lightning of that witness, and he lets it shine—a source of warmth and illumination. This book lays bare a special person, and a challenging age. A fine writer, a man of faith himself, Roberts is a biographer fully worthy of his brilliant subject."—James Carroll, author, Christ Actually
"Tom Roberts captures the remarkable Sr. Joan Chittister in an extraordinary manner. Joan's life of determination, courage, her humor, her extraordinary talents are revealed from her early years, right to the present. Among Joan's qualities, the gift of endurance is pivotal—the genius of prophets from ancient times until the present. I endorse this publication with great pride and support; it captures the woman Joan, as she follows her 'Impossible Dream!'" —Theresa Kane, RSM, former president, Leadership Conference of Women Religious
"Untold numbers of people know Joan Chittister as a public person. Here is a book that enables everyone to get to know her as an extraordinarily, deeply human person. In opening up her personal life to Tom Roberts, Joan shares her vulnerabilities, her doubts and struggles as she follows a prophetic call to proclaim a message of justice with a special emphasis on full equality for women in the Church and society." —Bishop Thomas Gumbleton, Detroit, MI
"Tom Roberts's engaging book gives us the context for Joan Chittister's prophetic voice in the Church. It also provides invaluable lessons about courageous leadership through disruptive change, operating always in the spirit of community. Lessons well-worth emulating in every walk of life." —Cokie Roberts, journalist and author