Joan Chittister Essential Writings Selected by Mary Lou Kownacki and Mary Hembrow-Snyder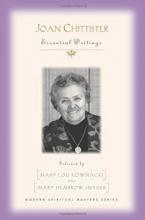 Illuminations Silver Award Winner 2015
Named by Spirtituality & Practice as one of the Best Spiritual Books of 2014
Description
Joan Chittister: Essential Writings is the latest publication in Orbis Books prestigious series enshrining the work of spiritual masters.
This volume, more than any other, captures and distills Chittister's spirit and her message for women and men today—including reflections on her own journey, why she remains in the church, and what sustains her faith and hope.
In the introduction to this splendid and wide-ranging volume in Orbis Books' Modern Spiritual Master Series, Mary Lou Kownacki, Chittister's colleague at Benetvision, writes about Chittister's personal spirituality, her love of writing, her passion for religious life, her calling as a woman of the church, and her energetic, prophetic, and enthusiastic personality.
This paperback contains a rich and soul-stirring crosscut of the incredible range of Chittister's spirituality that mixes deep mysticism with a profound yearning for justice. The selections here were made by two women who know her well. Kownacki is the author of A Monk in the Inner City and Director of Monasteries of the Heart, and Mary Hembrow Snyder edited Spiritual Questions for the Twenty-First Century, a collection of essays in Chittister's honor. Their choices from Chittister's vast amount of writing include musings on seeking God, the radical Christian life, becoming a prayer, the spirit of God as a wild thing, the church and women, enemies becoming friends, and the nature of God.
Editors:
Mary Lou Kownacki is a Benedictine in Erie, Pennsylvania. Long-time friend and colleague of Sister Joan Chittister, she is the author of A Monk in the Inner City: The ABCs of a Spiritual Journey (Orbis 2008).
Mary Hembrow Snyder is a professor in the department of Religious Studies at Mercyhurst University in Erie, PA, where she also directs the Center for Mercy and Catholic Studies. She has edited Spiritual Questions for the Twenty-First Century: Essays in Honor of Joan D. Chittister (Orbis 2001).
What others say:
"Sister Joan Chittister, richly formed by tradition but refusing to stay mired in past centuries, carries the questions and seeks the insights that will shape the future. This collection provides an authoritative introduction to the breadth and depth of her considerable body of work."
—Tom Roberts, Editor at large, National Catholic Reporter
If you are not familiar with her work, or want to refresh yourself with her prophetic teachings, this volume is a great place to start.
—Spirituality & Practice