The 2019 Joan Chittister Institute for Contemporary Spirituality (JCICS) is open to women of all ages, backgrounds and walks of life.
The week-long intensive will run from July 12-20 at Mount St. Benedict Monastery in Erie, PA, and enrollment will be limited to 36 participants. During the Institute the participants will have the opportunity to study some of Sister Joan's writings and engage in meaningful dialogue about Benedictine and feminist spirituality with Sister Joan and other Benedictine sisters and oblates. The Institute will be organized around the five Benedictine values of prayer, lectio, good work, study, and building community. 
Tuition for the week-long institute is $625. Some housing will be available at the monastery and on monastery property. There are also some nearby hotels. See below for greater detail.
If you would like additional information about JCICS as it becomes available, please sign up here. If you are already on the Vision and Viewpoint list, when you click subscribe you will be given the option to update your preferences. This is where you can check the "information about JCICS" box.
---
ADDITIONAL INFORMATION
• WHO CAN APPLY?  Women of all ages and backgrounds.
•WILL SISTER JOAN BE THERE? Yes! Sister Joan Chittister will be there and will be involved in several of the sessions.
•WHO WILL LEAD THE INSTITUTE? The institute will be facilitated by several members of the Benetvision staff, Sister Joan's center for research on contemporary spirituality. This will include Benedictine sisters, oblates and others who minister with Sister Joan's community.
•WHAT WILL THE INSTITUTE CONSIST OF? The institute will include analysis and discussion of several of Sister Joan's books, as well as presentations by Sister Joan and members of her community. Participants will commit to experiential learning, field trips, and conversations about monasticism including prayer, lectio divina, community and good work.
•WHERE DOES THE INSTITUTE TAKE PLACE? Mount Saint Benedict Monastery, Erie, PA, home of the Benedictine Sisters of Erie, Sister Joan's community.
•WHEN WILL THE INSTITUTE TAKE PLACE? July 12-20, 2019. The Institute begins Friday evening, July 12 and concludes with Sunday liturgy on July 21.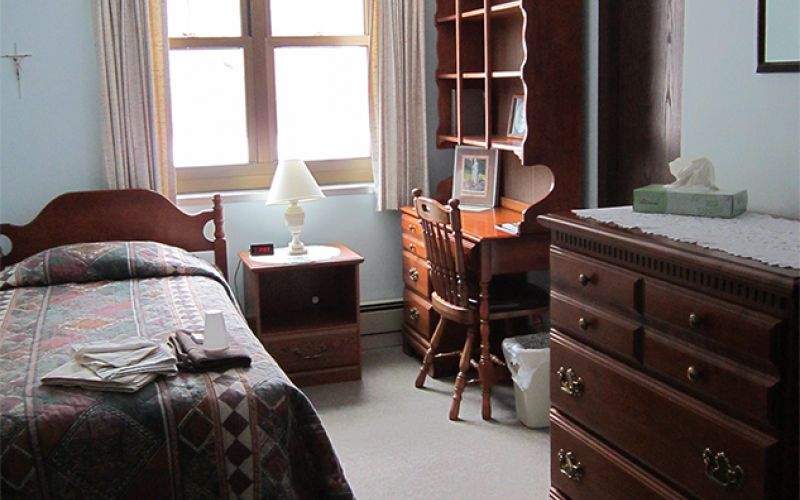 •HOW MUCH DOES THE INSTITUTE COST? $625 tuition. Room and board depends on your housing choice and availability ($400 at monastery or Casita, $120 commuter/hotel resident. See explanations below). Travel to and from Erie is your responsibility.
•WHAT IS THE DIFFERENCE IN ACCOMMODATIONS? For those at the monastery or Casita (on Glinodo property), you will have your own small bedroom and share a bathroom with one other person. For commuters and those staying at local hotels, meals for the week are $120.
•WHERE WILL PARTICIPANTS EAT? All participants regardless of lodging will take three meals a day at the monastery with the sisters. All food costs are included in room and board.