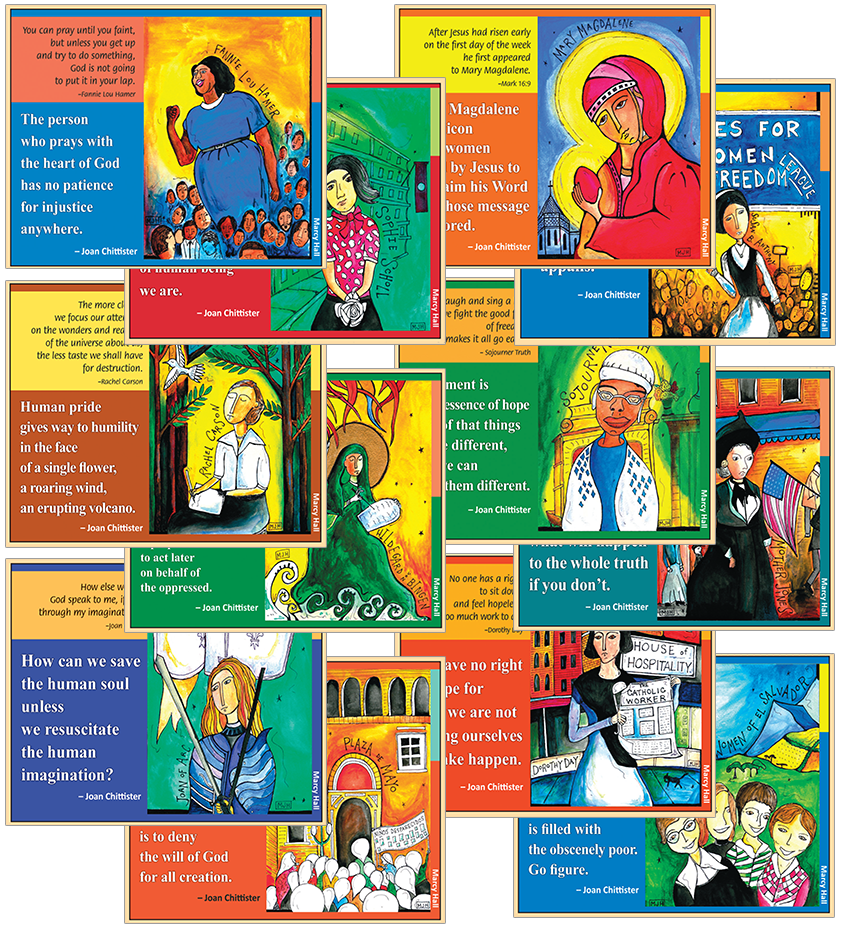 Throughout history there have been fiery trail-blazing women who spoke their truth and changed history. And the
2018 Joan Chittister Calendar
honors twelve of them. Insightful and inspiring quotes from Sister Joan echo the wisdom of such luminaries as Fannie Lou Hamer, Joan of Arc, Four Women Martyrs of El Salvador, Susan B. Anthony, Rachel Carson.... Artist Marcy Hall (2016 Joan Chittister calendar) returns with her vibrant, whimsical, yet deeply reflective paintings that capture the essence of each of these remarkable women.
BONUS GIFT INCLUDED: In this year's calendar there is a two-page tear-out that contains a 3.5"x4.25" bookmark of each of the monthly paintings and quotes with a brief biography of the featured women on the reverse side. Presto! Cut them apart and you have a calendar and a small gift to send to 12 friends.
ALSO AVAILABLE: We have made the set of 12 bookmarks available for purchase apart from the calendar. Printed on sturdy cardstock, each card features the same quotes as the calendar pages (view them below) and on the reverse is a short biography of each woman.
Package of 12 cards, $6; Cards measure 3.5"x4.25;" Quantity discounts available.
CLICK HERE. 
Everywoman 2018 Joan Chittister Calendar

Single calendar still only $10; as low as $6 when purchased in quantity.
ORDER HERE

—FREE BONUS GIFT INCLUDED: Set of 12 bookmarks to cut apart and share.

Click images for larger view • Full color • Opens to 11" x 17"

The Monastic Way by Joan Chittister: 2018 Collection

Maria Shriver reads it every morning. About 2,000 men and women in prisons across the country reach for it every day. People keep it in their bible…their purse…their prayer space for daily meditation. IT is The Monastic Way, a monthly reflection piece by Joan Chittister. In the 2018 Monastic Way, Sister Joan shares her penetrating insights on wisdom quotes from 12 women who spoke out against injustice and forged a path of righteousness in difficult times. The 2018 Monastic Way features vibrant portraits of these 12 women by artist Marcy Hall, a quote from each woman, and a daily reflection by Joan Chittister. You can receive the monthly online or in print version. SUBSCRIBE NOW and we'll extend your subscription until December 2018 to make sure you receive the full series. That's two FREE issues.

For $19.95/year you'll receive your PRINT issue in the mail each month (U.S. addresses only). SUBSCRIBE HERE

$12.95/year gives you the online version that includes full access to The Monastic Way website and a pdf version emailed to you each month. SUBSCRIBE HERE

See a sample issue of the 2017 edition and download the PDF.

Gift options are available. Give a print subscription to a U.S. address (CLICK HERE) or purchase an online license that allows you to forward the monthly pdf version to your family and friends. MORE INFORMATION HERE
About the author and the artist:
Joan Chittister is an internationally known author, lecturer and visionary voice in church and society. She has written more than 40 books and received numerous awards for her writings and work on behalf of peace, justice and women's rights. She is executive director of Benetvision, a resource center for contemporary spirituality, and the guiding force of Monasteries of the Heart, an online movement sharing Benedictine spirituality with contemporary seekers. Sister Joan is an online columnist for the National Catholic Reporter and co-chairs the Global Peace Initiative of Women. She is past president of the Leadership Conference of Women Religious (LCWR) and is a former prioress of the Benedictine Sisters of Erie. Find Joan's newest publications here.
Marcy Hall, an artist from Erie, PA, illustrates the 2018 Joan Chittister calendar with her vibrant, whimsical, yet deeply reflective acrylic paintings. Marcy, who has sold her paintings and prints worldwide, has also done extensive work with the Abbey of the Arts website and its founder Christine Valters Paintner in developing the Dancing Monk series. Marcy is an animal lover and is always working on pet portraits to honor and memorialize beloved animals - her work includes cats, dogs, guinea pigs and even an armadillo. She was the artist for the sold-out 2016 Joan Chittister calendar. Order Marcy's artwork here.